Explanation of real estate registration in Japan. English available.
Recently there has been a significant increase in the number of foreign individuals and foreign enterprises investing in attractive real estate markets in Japan.
In Japanese real estate transactions, following the signing of the purchase agreement, the final purchase price is made following confirmation that the real estate registration has been successfully concluded in the presence of a Shiho-Shoshi lawyer on the closing date .
Karma Legal Office Partners Shiho-Shoshi Law Office and its English-speaking staff can team up with an English-speaking real estate agency to provide you with reliable and seamless support and services for your real estate transactions and investments in Japan.
Real Estate Transactions in Japan
There is a real estate registration system in Japan that is used in order to announce the owner's rights to real estate, be it a physical building, or land.
In this registration system the concerned rights of the real estate in question are described in terms such as "Who owns it?" or "Is this building the subject of a mortgage?"
When buying or selling real estate, you cannot claim to a third party that the property in question belongs to you unless you get it officially recorded that the ownership of the real estate in question has been transferred to you.
Thus, it is very important to get real estate registered properly by a professional solicitor i.e. shiho-shoshi. The right to claim ownership only becomes valid when we, shiho-shoshi lawyers, ensure that the registration has been conducted legally and properly. The settlement of the trading value needs to be carried out with the co-signing of shiho-shoshi lawyer.
What are the regstration Procedures?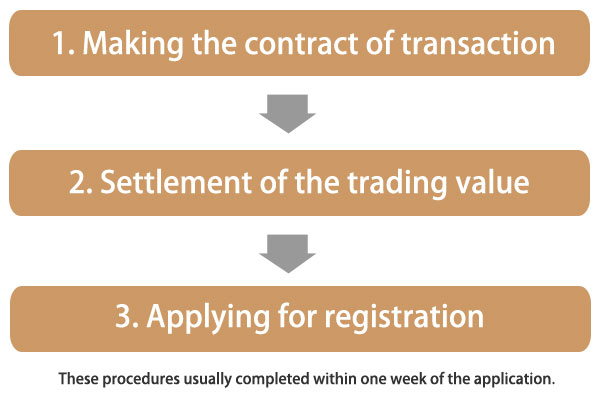 Q&A
Q Are there any restrictions on non-Japanese buying real estate in Japan?
A Since there is no nationality restriction on the purchase of real estate in Japan, both non-Japanese individuals and corporations can buy real estate.
Q Are there any limits to the acquisition of real estate in Japan for non-residents of Japan?
A There is no legal limit so they can freely buy or sell real estate in Japan. However, they might report the fact that they have acquired real estate to the Minister of Finance via the Bank of Japan.
Q Is there any required time period for ownership of real estate in Japan?
A There is no such limitation on real estate ownership under Japanese law.
How Karma Legal Office Can Help You?
■Submit real estate registration applications on your behalf
■Attend the payment of the purchase price
■Preparation of relevant documents in your language (English and Chinese available; if you require other languages, please ask)
■Official report of real estate acquisition to the minister of finance
■Handle tax procedures on your behalf ("tax manager")
■Translation of sale and purchase agreements and official disclosures regarding the property Into your language
■Explanation of whatever you need to know about Japanese law regarding real estate
■Introduction to experienced and knowledgeable, English-speaking real estate agency
■Preparation of documents for real estate registration in Japan or overseas